Russkiy Mir Foundation delegation meets Russian Ambassador to Japan
/ Главная / Russkiy Mir Foundation / News /

Russkiy Mir Foundation delegation meets Russian Ambassador to Japan
Russkiy Mir Foundation delegation meets Russian Ambassador to Japan

19.12.2017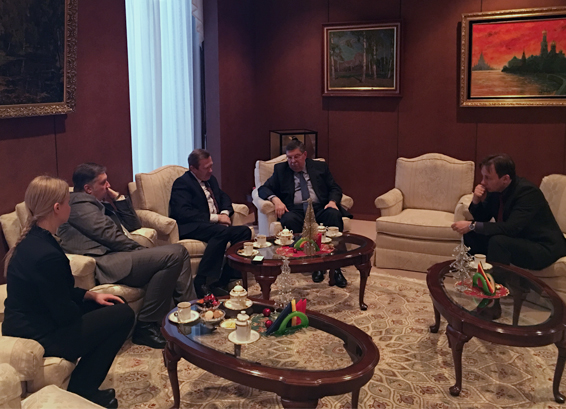 Delegation of the Russkiy Mir Foundation headed by Executive Director Vladimir Kochin met the Russian Ambassador to Japan Yevgeny Afanasyev. The head of Rossotudnichestvo office in Tokyo Konstantin Vinogradov took part in the meeting.
Vladimir Kochin thanked Russian Ambassador for the support rendered to the Russian Center of Soka University since its opening by the Ambassador personally and other employers of Russian Embassy and Rossotudnichestvo representative office.
It is worth reminding
 that Russkiy Mir Foundation is paying an official visit to Tokyo. The Russkiy Mir Foundation representatives held a meeting with management and students of Soka University in Tokyo. Vladimir Kochin shared his impressions about visiting the university, Japanese students studying Russian being a very complicated language for them, and talked about presenting the bust of Yuri Gagarin made by sculptor A. Leonov to the Russian Center by Charity Foundation the United World – partner of the Russkiy Mir Foundation.
Touching upon the topic of 2018 being a cross year of Russia and Japan, the delegates discussed perspectives of cooperation between the two countries and further reinforcement of Russian language's positions in the curriculum of secondary and higher educational institutions in Japan as well as new measures of raising motivation among young people in Japan to study the Russian language.
Russkiy Mir
News by subject
Winter in Russia is a time of joyful holidays. Christmas and Christmastide — up until the Epiphany — are the brightest and happiest days of winter. How did they celebrate these holidays beloved by the people in Old Rus?